Professional Chef Course
Accredited by Thai Ministry of Education
Study for 6 weeks UP TO 12 months
"COOK LIKE A THAI CHEF"
Thai Chef School is located in Bangkok and teaches the ins & outs of Thai cooking. Classes are in English.  This professional chef course assumes you already have learned basic culinary skills (knife skills, HACCP, etc).  You will cook, cook, and cook–at least 150+ professional Thai dishes.
This Professional Thai chef training program is for those wishing to really learn how to prepare professional Thai dishes from scratch.  Let our chef-instructors train you for 6 weeks.  Training emphasizes:
Achievement of authentic aromas & flavors

Professional presentation of all dishes

Development of competency in dish preparation–from working with raw ingredients to the finished dish

Knowledge to identify and work with Thai ingredients and Thai cookware
To see our

E BROCHURE

, please click

HERE.
DAILY TRAINING APPROACH:
Demonstration-

Thai chef-instructors professionally and thoroughly demonstrate the preparation and plating of each dish in English. All techniques are explained and demonstrated. Questions are answered.

Application-

Each student, following recipes provided and demonstration by the instructor, works with recipes and ingredients until he has a completed, authentic-tasting and properly plated professional dish. All dips, sauces, pastes are prepared from scratch for each dish. Chef-instructors then taste and critique each dish, as appropriate.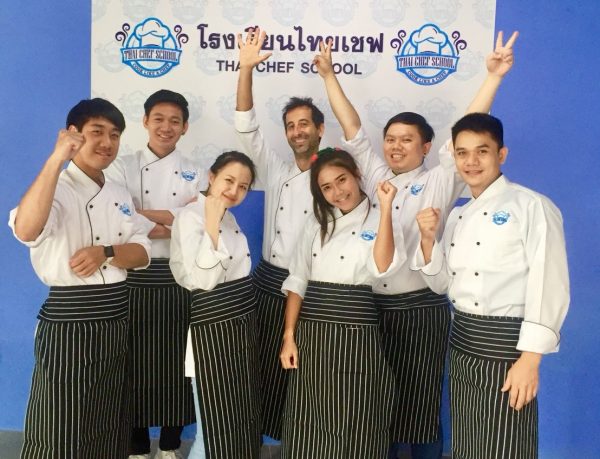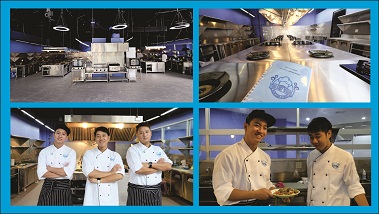 WHAT YOU WILL LEARN DURING 6 WEEKS-
Authentic professional dishes (150+ of the most popular dishes)

Dips, sauces, pastes made from scratch for each dish

Professional plating

Making tofu and soy milk

Thai ingredients

Thai cookware–high and low-pressure burners, woks, steamers,…

Vegetarian cooking techniques

Street foods

Thai breakfasts

Thai drinks
THAI DISHES TO LEARN AND WHEN TAUGHT:
For a schedule of when Thai dishes are taught, click HERE.
For a list of Thai dishes and related Thai names being taught, click HERE.
TUITION:  108,000 THB ($3,600 USD)
PLUS (optional):
EDUCATION VISA (6 MONTHS): 15,000 THB ($500 USD)
INTERNSHIP PLACEMENT: 15,000 THB ($500 USD)
Note: Internships are optional and are available for those wishing some on-the-job training at a 5-star hotel.
NOTE: All USD prices are subject to change based on daily fluctuations in exchange rates.
Accommodations (optional): 15,000 THB ($500 USD) for 6 weeks while training at the school, includes a private room with private bath, hot water, wifi, air-con OR 9,000 THB ($300 USD) for 6 weeks in a nice hostel.  Click HERE to see more choices.
How to Enroll:
Send an email to

Ron@ThaiChefSchool.com

or click

HERE

indicating which Monday you wish to start.

The school will confirm if your desired start date is available.

Once your start date is confirmed, a deposit, usually paid using any major credit card, is required to guarantee your start date.

Send us a copy of your passport so that we can start the process of helping you obtain a visa (tourist or student visa).

Intake Dates:  Any Monday
Teams:  We do not do teams; each student has his own cooking and prep station
Training schedule:  Monday-Friday, 930 AM  onwards until assigned dishes are completed
Dishes/day:  5-6 daily
Class size:  Limited to 6
Language:  English
DIPLOMA
Master Thai Culinary Chef Diploma, accredited by the Thai Ministry of Education for 240 hours of training
Deposit:  25% using any major credit card, ATM transfer, bank wire transfer, or Western Union
Letters of Acceptance:  For those coming to the school on a 90-day tourist visa once required deposit is received, provided free-of-charge
Visas:  Assistance provided in obtaining tourist visas and 6-month student visas
Accommodations: 15,000 THB ($500 USD) for 6 weeks while training at the school, includes a private room with private bath, hot water, wifi, air-con OR 9,000 THB ($300 USD) for 6 weeks in a nice hostel or click HERE to see other hotels/hostels.
INQUIRIES:
Click HERE or send email to Ron@ThaiChefSchool.com or call +66 2136-9405 (School office), +66 807-706-741 (English) or +66 819-154-919 (English or Thai).

EDUCATION TASTES BEST IN BANGKOK