PROFESSIONAL TRAINING COURSES 
THAI COOKING CLUBS
Traditional (Animal-Based) and Vegan (Plant-Based) Recipes
CONVENIENCE – AUTHENTICITY – FUN – PROFESSIONAL
"We Bring Bangkok To You"
Learn to "Cook Thai Like a Thai"--Online
In affiliation and consultation with Bangkok Thai Cooking Academy, Thai Chef School provides animal-based and plant-based online Thai cuisine.  All training is based on in-person cooking classes taught over 10 years using tried and proven recipes and finely-tuned teaching techniques.  Thousands of foreign students have been taught over the years by us.
Because of the recent difficulties of international travel relating to pandemics and the increased requests for online courses, Thai Chef School has been retooled to accommodate this new demand.  If you cannot come to us in Bangkok, we are determined to bring Thai dishes and culinary training to you.  For the past 10 years, we have taught only in-person cooking courses in Bangkok, Phuket, and Hua Hin.  Training has been offered in Thai cooking, Pan-Asian cooking, Western cuisine, and Pastry/Bakery by our crew of chef-instructors.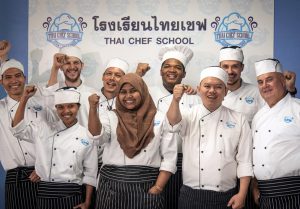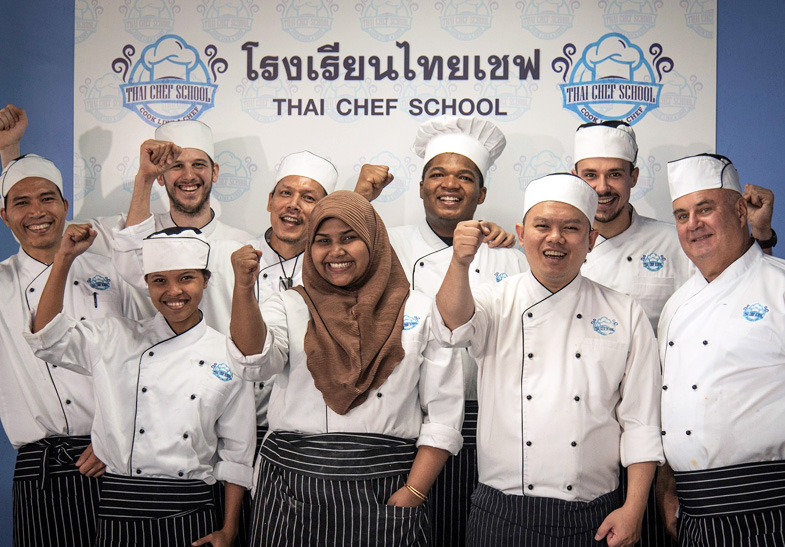 Thai Cooking Clubs (2 clubs–Traditional and Vegan) presents authentic Thai dishes, prepared by professional chef-instructors in Bangkok.  Learn how to prepare delicious-tasting dishes as well as basic Thai cooking skills from the convenience of your home.    
Professional Training Courses (Traditional and Vegan) are designed for beginners, cooks, and chefs, who wish to learn or improve their Thai cooking skills.  Over the years, we have taught in-person courses lasting up to 13 weeks–courses in Thai culinary arts, Pan-Asian cooking (Thai, Japanese, Chinese, Korean, and Vietnamese), Western cooking, and Pastry/Bakery.  
Based on our years of experience teaching to all skill levels, we have designed video training courses accordingly suited.  Training videos for all skill levels are presented in 4 segments:
Ingredients

Preparation of Ingredients

Chef Cooking Demonstration

Professional Food Plating
All training videos have been filmed in full HD.  To further enhance the learning experience, emphasis has been placed on:
Entertaining & knowledgeable chef-instructors

Time for Graduation

High quality photography

Professional lighting

Professional sound equipment

Professional editing
Using the videos and recipes provided, our efforts are devoted to helping you:
Master Thai dish preparation

Become familiar with Thai ingredients

Achieve authentic flavor and aroma of dishes

Gain working knowledge of cooking equipment and techniques

Learn professional food plating techniques
" IF YOU CAN'T COME TO BANGKOK, LET US BRING BANGKOK TO YOU!"
QUESTIONS & COMMENTS: You can write to Ron@ThaiChefSchool.com or use our Contact Us page. Our phone number is +66 819-154-919 (English & Thai). We will endeavor to answer your questions promptly.