CHEF LAOONGDAO (DAO) CHANAWONG ESTRADA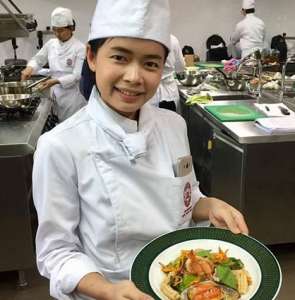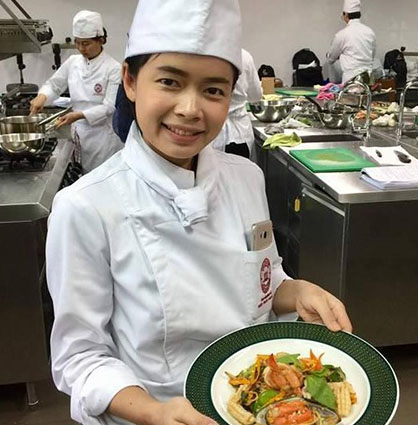 [/vc_column_text][/vc_column]
Chef Dao, our smiling Thai cooking instructor and team building specialist, is a master cook in her own right. She is our team building specialist and also our best fruit carving instructor.  She also specializes in teaching our private classes. If you really want to learn cooking some lip-smacking Thai dishes then we welcome you to take the demo class of chef Dao. She will constantly throw you new challenges to make you more proficient in cooking. Whether its Thai cuisines, vegetable carving, you will enjoy every moment in her class.
EDUCATION & TEACHING EXPERIENCE:
Degree in Accounting from Sisaket Business Administration College.

Le Cordon Bleu Basic Cuisine Diploma, Bangkok, 2018

Professional Thai Cooking Programme from Dusit Thani Culinary College.

Dusit Thani Government Occupational Testing Certification, passed 2-day testing in cooking theory, practical skills, and fruit carving.

Thai cooking and fruit carving instructor from 2014-2016 at Hua Hin Thai Cooking Academy.

Thai cooking and fruit carving instructor, from 2016- present at Bangkok Thai Cooking Academy.

Thai Chef School–Classroom and online instructor & private chef training, 2018-present
[/vc_row]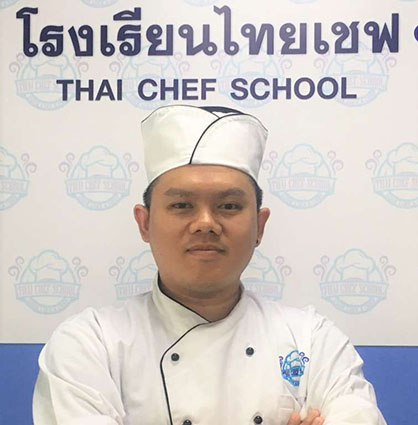 Chef Kan, always smiling and confident teacher of both Thai and Western cuisines, brings lots of culinary experience from Thailand, Korea, and the U.S.A., having worked his way up from Line Chef to Head Chef.  He is well-educated and speaks impeccable English.  He is a pleasure to be around, work with, and learn from.
EDUCATION:
Queen's College, Thailand–High school diploma

International Hotel & Tourism Industry Management School (I-TIM), a 2-year degree in Hotel Management & Culinary Skills
WORK EXPERIENCE:
2017–Head Chef, Busan, S. Korea

2012-2016–Head Chef, high-end healthy food preparation & delivery (fusion & Thai), Bangkok

2009-2011–Kitchen internships at various hotels in U.S.A. and Thailand
TEACHING EXPERIENCE:
Bangkok Thai Cooking Academy–Chef instructor, 2019-present

Thai Chef School–Culinary vocational training instructor, teaching Thai, Pan-Asian, & Western cuisines.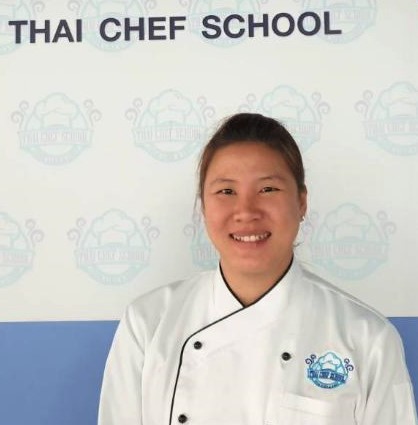 Chef Ratchaneekorn, better known as Ratch, is known for her patience and easy-going style of teaching Thai cooking.  She is always calm, but her knowledge of Thai culinary arts never ceases to amaze us.  Seems like she can teach anything and everything!
PROFESSIONAL TRAINING:
Bansomdejchaopraya Rajabhat University, B.A. in Communication Arts

Cornell Institute of Business & Technology, Diploma in Professional Cookery (Level 5), Auckland, NZ
CULINARY CHEF EXPERIENCE:
Chef for 2 years at Ayutthaya Halal Thai Food Restaurant, Auckland, NZ
TEACHING EXPERIENCE:
Thai Chef School–Chef instructor of Thai culinary arts, December 2018-Present
Bangkok Thai Cooking Academy–Chef instructor of Thai cooking, 1 Nov 2013-31 March 2016