[trx_sc_content type="default" size="none" float="none" align="none" padding="none" title_style="default" title_align="center" title="Pastry and Bakery Course" subtitle="Licensed by the Thai Ministry of Education" description="" link="" link_text="" link_image="" scheme="inherit" id="" class="" css=".vc_custom_1573980862492{padding-top: 4em !important;}"]
Study 1 to 5 Full-Time Weeks (200 Hours)
PART-TIME or FULL-TIME TRAINING 
EDUCATION VISAS AND INTERNSHIPS AVAILABLE
Ideal for coffee shop owners and those wishing to start a bakery/pastry business
Basics of Bread Making, French Pastry, Cake Preparation & Decoration, and Chocolates
[/trx_sc_content]
Thai Chef School's Pastry & Bakery course provides the fundamental training skills needed to master French pastry, cake making & decorating chocolates, and bread making. No previous experience is needed to enroll in this program. By training with our professional French pastry chef, you will be amazed how easy it is to take your skills to higher levels. In just 5 full weeks, once you master these classical and contemporary skills and techniques, you will be able to create your own masterpieces. AND then, if you wish, after completing 5 full time weeks of professional pastry/bakery training, continue your learning in the pastry department of a 5-star hotel for up to 6 months (when available).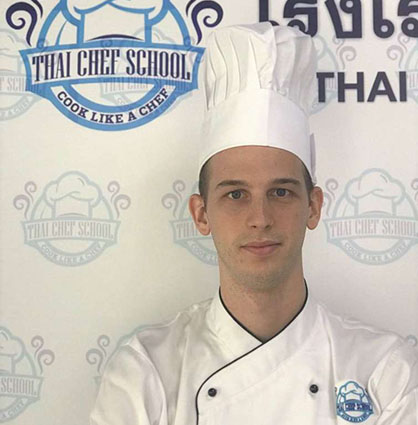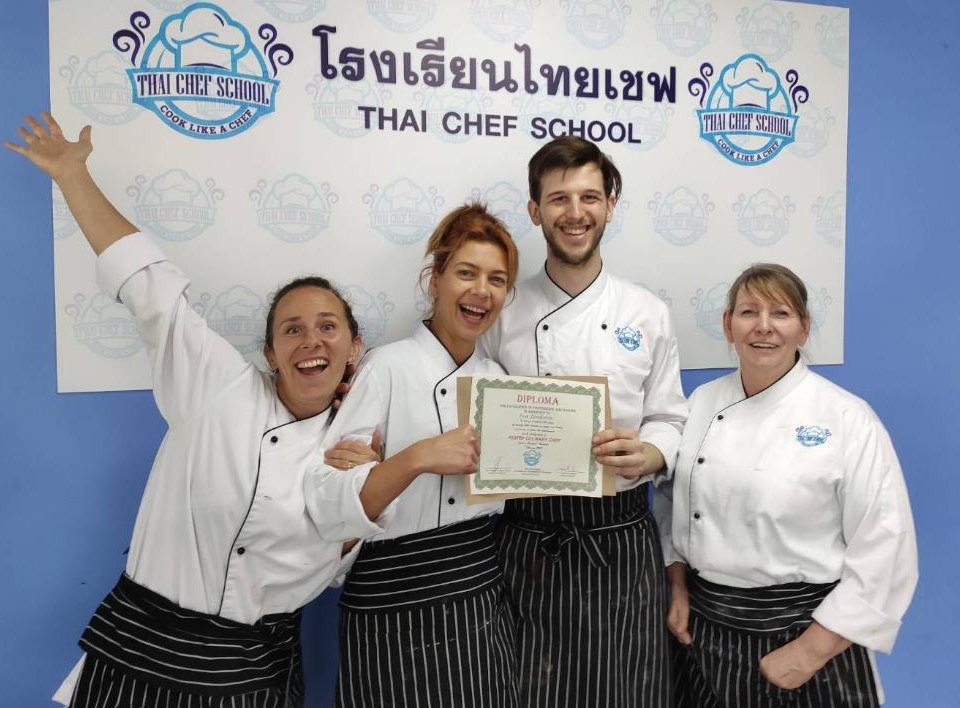 What do you want to learn? Pastry training (Module 1) is for 3 weeks (Weeks 1-3). Bakery training (Module 2) is for 2 weeks (Weeks 4 & 5). Learn Pastry or Bakery or both–up to you! Training is 100% hands-on, including traditional kneading, whipping, folding, mixing, glazing, piping, and much more. 
To see our
E Brochure

, click HERE.

Study 5 full-time weeks, learn 101 recipes, and learn the basics of pastry & bakery arts:
Classic cakes, pies, desserts

Modern pastry techniques

Bread, dough, and pizza crust making

Working with chocolates

Cake decoration using both chocolate and buttercream
Study for 1 week or all 5–up to you!  With us, we teach full days, not half days so you can learn quickly what you want to know.
Click

HERE

to see what is taught each week
TRAINING SCHEDULE (Monday-Friday for 200 hours)


101 RECIPES
PASTRY (Module 1):
WEEK 1–PASTRY, SWEETS & CAKE MAKING #1 (22 RECIPES)
Choux pastry

Cream puff

Chocolate eclairs

Carmelized choux

Lemon meringue pie

Apple crumble

Fruit tartlet

Custard pie

New York cheesecake

Cinnamon cookies

Creme brulee

Frozen vanilla souffle

Crepe souffle

Fruit salad

Paris-Brest (choux filled with praline cream)

Cocoa Swiss rolls

Pear & almond pie

Exotic fruit roll

Sponge cake

Mango panna cotta

Coffee cake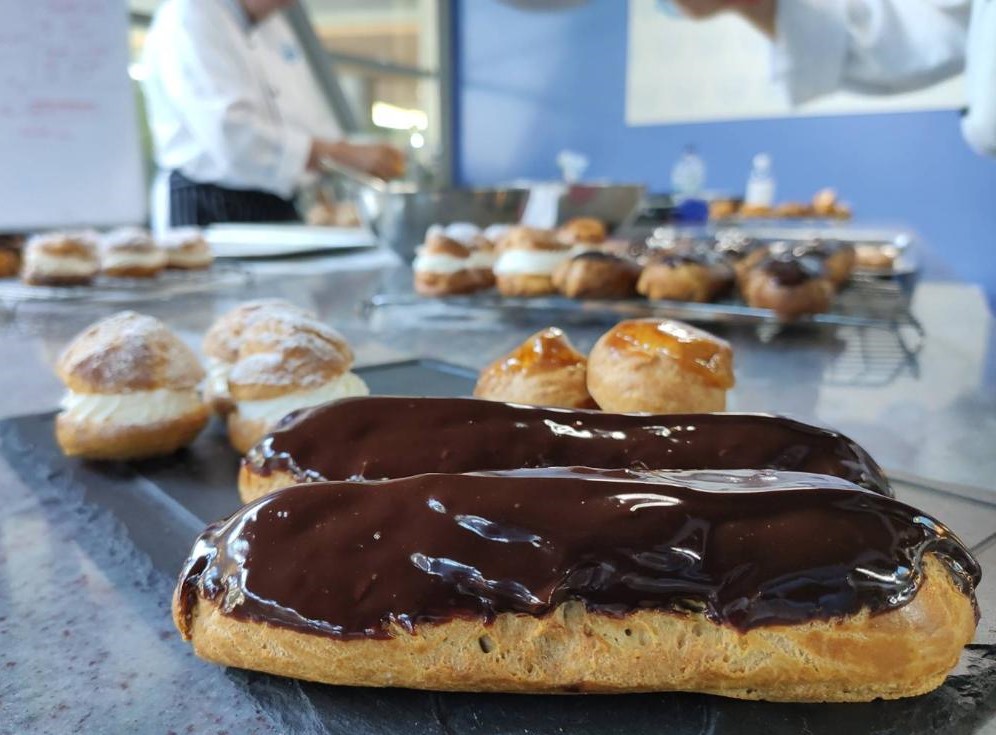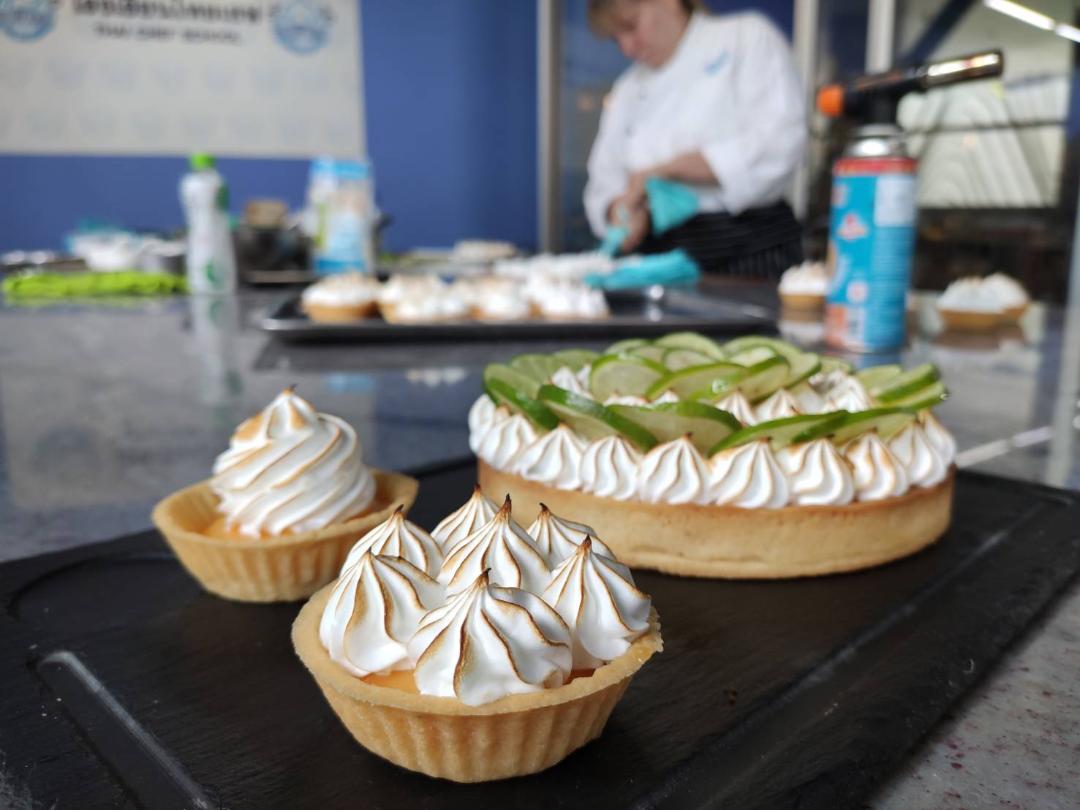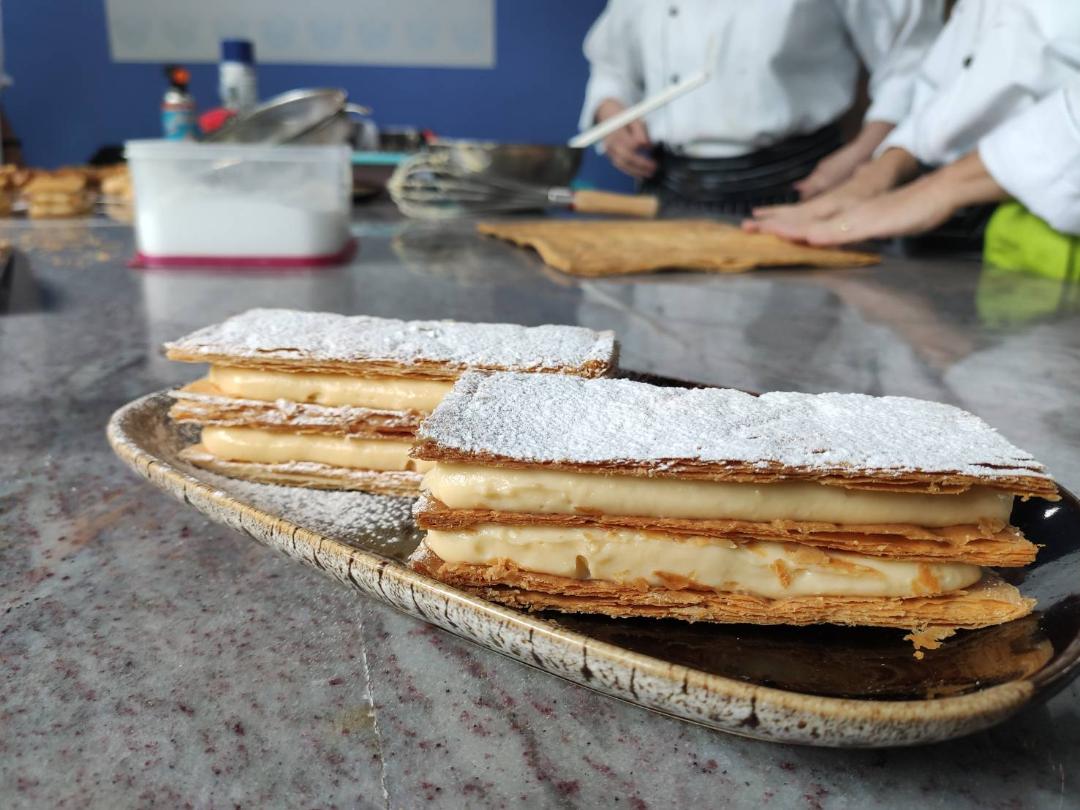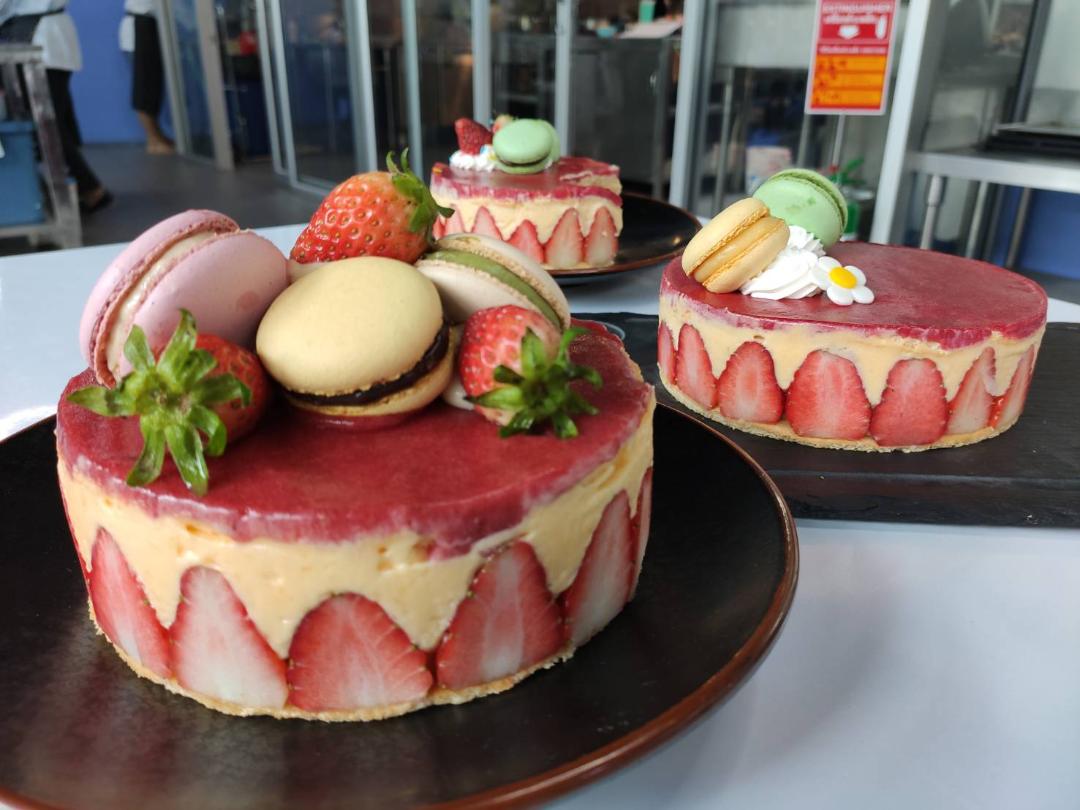 WEEK 2–ADVANCED PASTRY & CAKE MAKING #2 (Must be taken after Week 1) (18 RECIPES)
Strawberry cake

Opera cake

Caramel mousse cake

Butter cookies

Mango & passion fruit mousse cake

Macarons

Tiramisu

Layered vanilla cream pastry (Millefeuille)

Genoise

Cocoa sponge cake
WEEK 3–CHOCOLATE CAKES & SWEETS (20 RECIPES)
Chocolate truffles

Caramel truffles

Coconut truffles

Black forest cake

Trio chocolate cake

Chocolate fondant (Lava cake)

Chocolate brownies

Sacher cake

Chocolate souffle

Caramel/Chocolate pie

Chocolate chip cookies

Chocolate sand roses

White chocolate raspberry cake

Warm chocolate pie

Coconut rocks (Coconut cookies)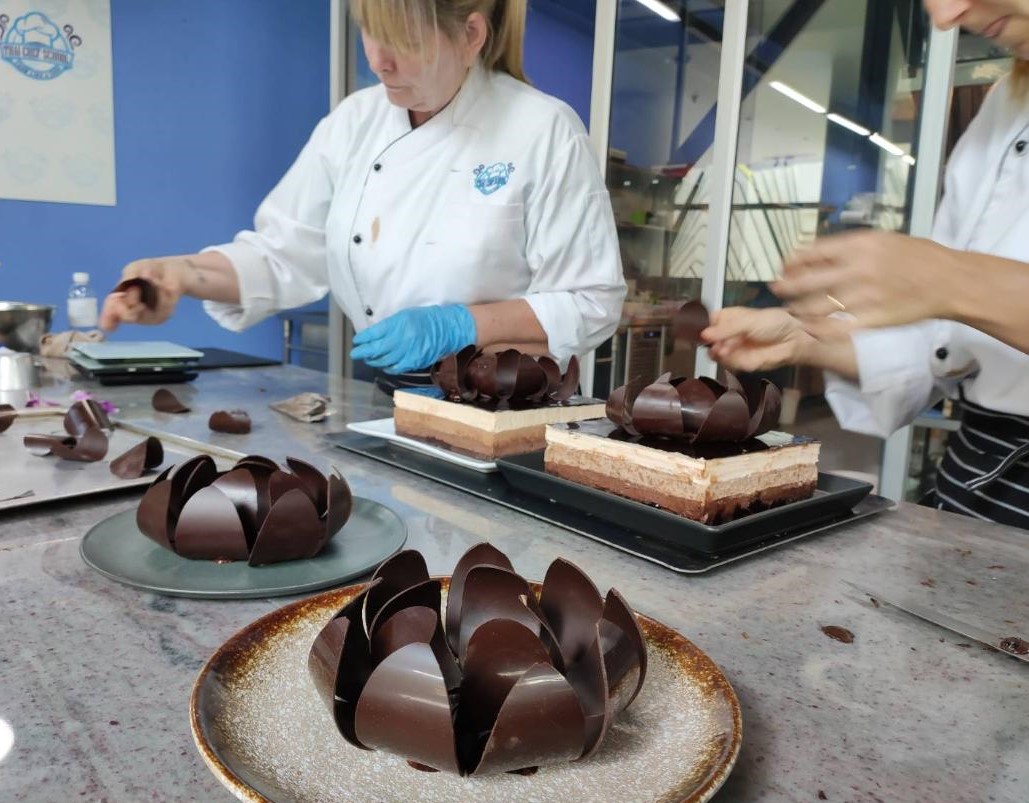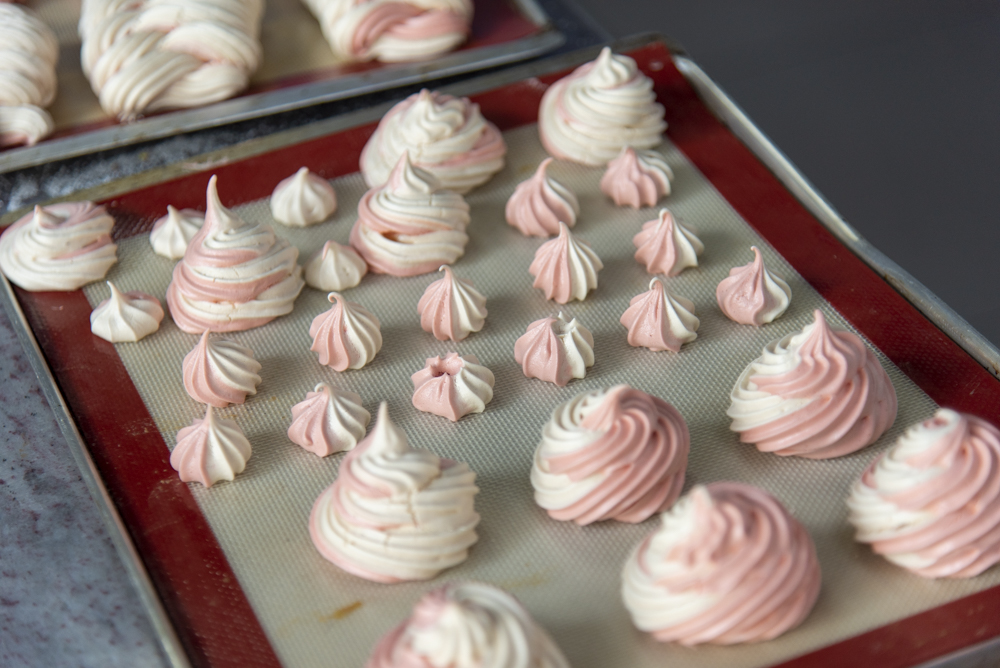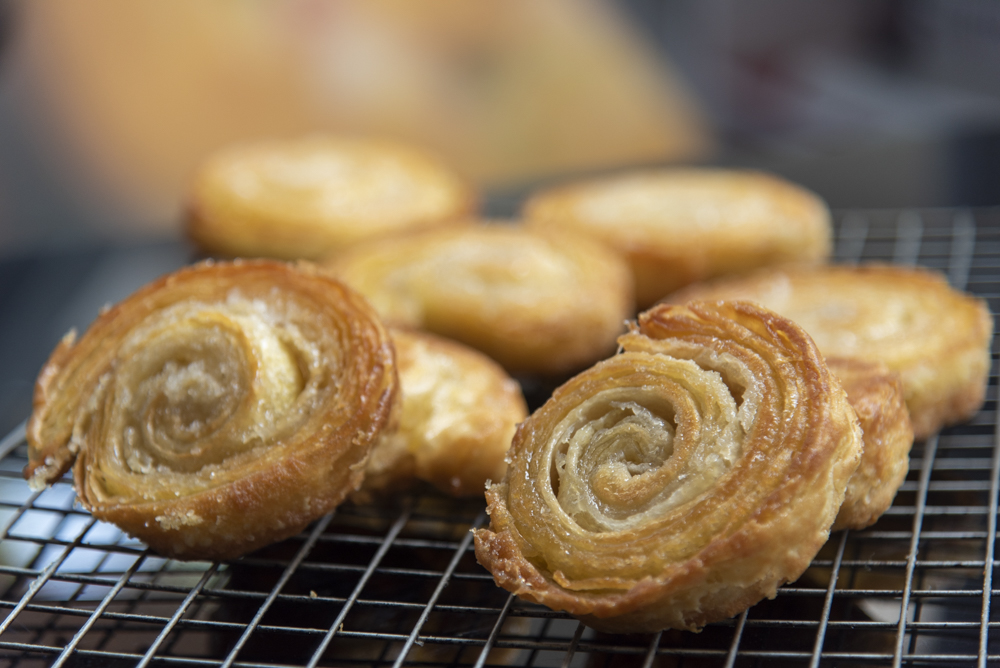 BAKERY (Module 2):
WEEK 4–BAKERY & BREAD MAKING #1 (22 RECIPES)
White sandwich bread

French bread

Bagels

Croissants

Puff pastry

Thin apple tart

Pizza crust (thick and thin)

Pretzels

Milk bread

Brioche

Fruit cake

Fruit pie

King cake

Apple turnover

Palmier

Tatin tart

Financiers

Baked cheese-tart

Meringue

Muffins

Bread rolls

Meringue
WEEK 5–BAKERY & BREAD MAKING #2 (19 RECIPES)
Multi-grain bread

Whole wheat bread

Traditional baguette

Danish pastry

Tropezienne tart

Japanese cheesecake

Poundcake

Kouign Amann

Viennese bread

Doughnuts

Madeleine

Pita bread

Bread rolls

Burger buns

Spice cake

Cinnamon rolls

Rum baba

Apple beignets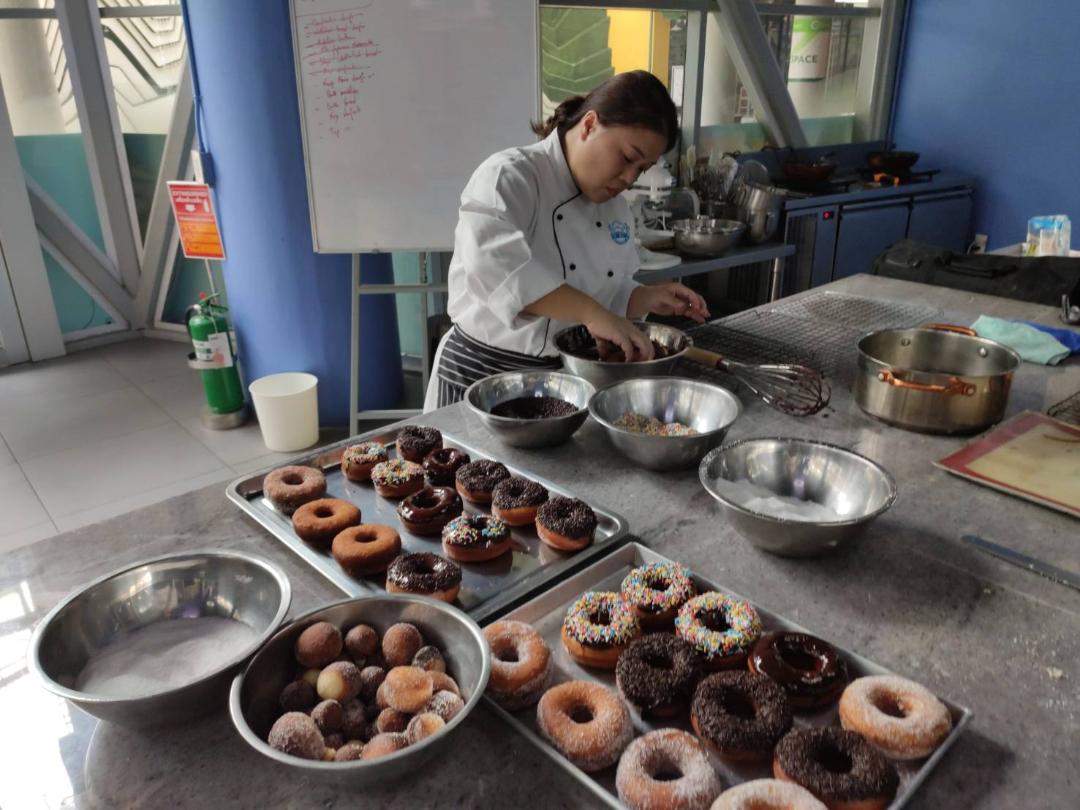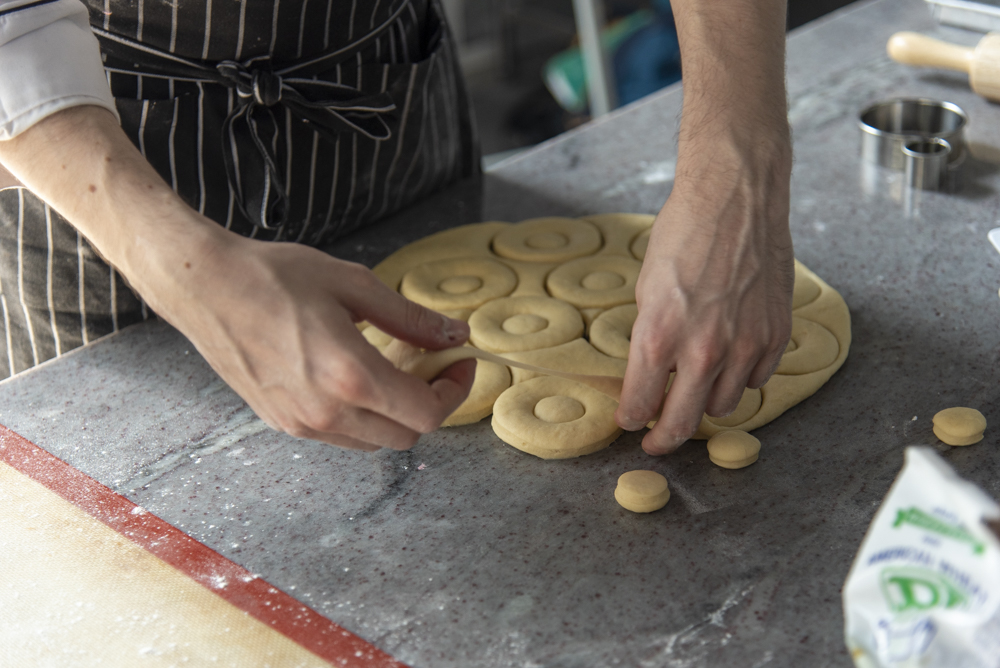 ADDITIONAL INFORMATION:
Pastry & Bakery Course Tuition (based on number of weeks of study)–
PROGRAM A (Full-time):
1 Week–20,000 THB ($650 USD)

2 Weeks–40,000 THB ($1,350 USD)

3 Weeks–55,000 THB ($1,850 USD)

4 Weeks–70,000 THB ($2,325 USD)

5 Weeks–75,000 THB ($2,500 USD)
Education Visa (optional): 15,000 THB ($500 USD) for 6 months for full 5 weeks course
TO SEE WHEN EACH WEEK IS TAUGHT, CLICK

HERE.
When to join for full time training: Any Monday.
Study Week: Monday-Friday, 9:00 AM – 3:30 PM daily
Minimum # of Students: 1
Recipes & Instruction: Learn 101 recipes in English
Internships:  Available for up to 6 months at a Thai 5-star hotel pastry department (when available)
Deposit: Required to guarantee your seat, paid by any major credit card or bank wire transfer
Accommodations: Private rooms starting as low as 2,500 THB ($83 USD)/week, hostel bed for 1,500 THB ($50 USD)/week, or click HERE for more rooms in the area.
Letter of Acceptance: For those in need of a tourist visa for 60 days, once a deposit is received (no charge)
Education Visa:  Assistance provided in obtaining 6 month education visas (for forms to submit click HERE)
Certificate of Achievement: Granted to those completing 1 week of training
Diplomas:
A Basic Pastry & Baking Arts Diploma is awarded upon completion of 2-4 weeks (80-160 hours) of training and accredited by the Thai Ministry of Education.
A Professional Pastry & Baking Arts Diploma is awarded upon completion of 5 weeks (200 hours) of training and accredited by the Thai Ministry of Education.
Questions/Registration:
If you have further questions or wish to register for one or more weeks of this course, please click HERE or send an email to Ron@ThaiChefSchool.com with your comments, and we will reply shortly. You may also call us at +66 807-706-741 (English) or +66 2-136-9405 (School–English or Thai)