PAN-ASIAN CULINARY TRAINING
Professional – Intensive – Authentic
Accredited by Thai Ministry of Education

For those wishing to learn basic culinary skills and the most popular Thai, Chinese, and Japanese dishes.

INTERNSHIPS & GOOD PAYING JOBS AVAILABLE

This intensive 7-week training program is designed to introduce both Thais and international students to basic culinary skills and to teach students the most popular Thai, Chinese, and Japanese dishes.  This course is taught primarily in English.  After graduation, students can elect to work as interns at a resort/hotel for up to 3 months.  This is a paid internship.  Internships are not mandatory.  Job placement assistance is provided free of charge for students successfully completing this course.  Classes are small, and lots of personal attention is available.
CULINARY TRAINING METHODOLOGY
Training is done as follows:
1.  Classroom Training (basic culinary skills)–
In a dedicated classroom, subjects such as knife skills, HACCP, menu planning, nutrition, food costing & measurements, ingredients, commercial kitchen utensils and kitchen organization are taught.  Most lecture is in English.  Handouts, audio-visual aids such as whiteboard, powerpoint, and videos are used to assist the lecturer.  Class participation is encouraged.
2.  Culinary Training (at the cooking stations)–
(A) Demonstration Class–Chef instructors will explain and demonstrate how to cook each dish
(B) Practical Application—Students, using recipes and notes, are expected to properly prepare the same dish professionally and correctly. All dishes are checked by the instructor with constructive criticism offered.  Each student has his own training station and works independently.
TO SEE OUR

E BROCHURE

, please click HERE.
PAN-ASIAN CULINARY TRAINING COURSE
OVERALL:
Classroom–7 weeks of training (35 days, Monday-Friday)
260 hours cooking and in the classroom
Internship (optional)–up to 3 months of paid internship at Thai hotels/resorts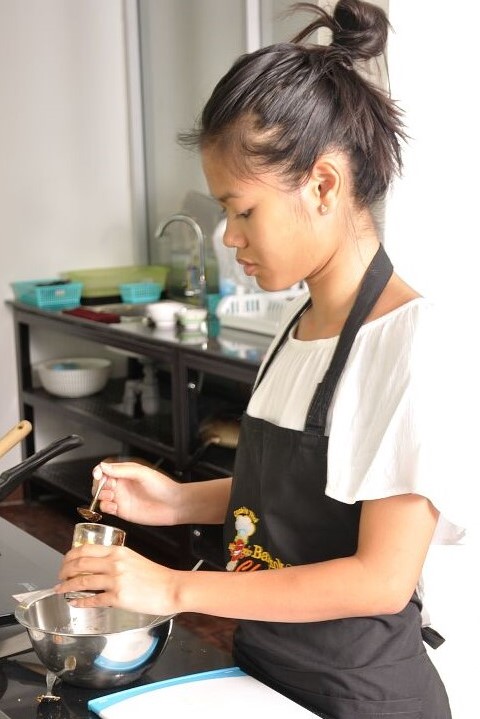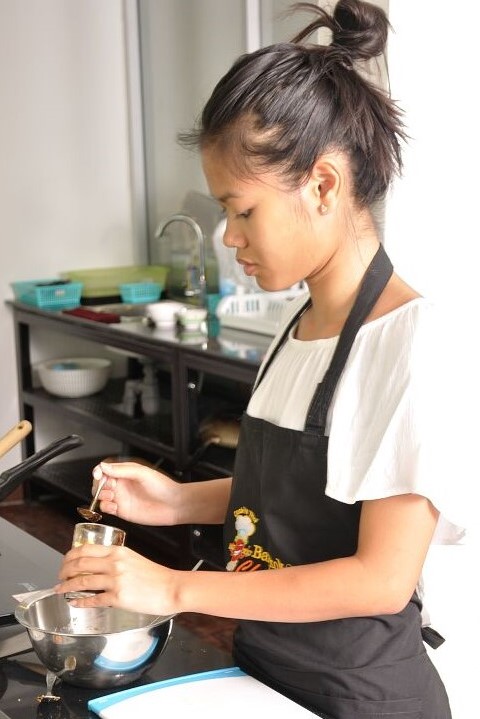 CLASSROOM & COOKING SUMMARY:
Classroom Lecture—10 days (6 hours/day=60 hours)
Cooking Training—25 days (8 hours/day=200 hours)
To see classroom lecture topics and dishes to be learned (by country), click HERE.
COURSE DETAILS:
Tuition:
All students--70,000 (THB)*
*Includes 2 uniform sets & a set of cutlery knives

Accommodations:  Available starting at 2,500 THB/week or click HERE to see other more expensive rooms.
Length:   7 weeks (Monday-Friday for 35 days)
Internship:  No charge for this program and this is elective, not mandatory.  Can be up to 3 months, with pay, at a Thai hotel or resort.
Start Dates:   Next intake is Monday, 12 Nov.
Cuisine Taught:
Thai (17 days)
Chinese (6 days)
Japanese (2 days)
Instruction: In English (except as needed for Thai students)
Course Material:
Recipes in English for all dishes, dips, pastes, sauces prepared
Lecture material in English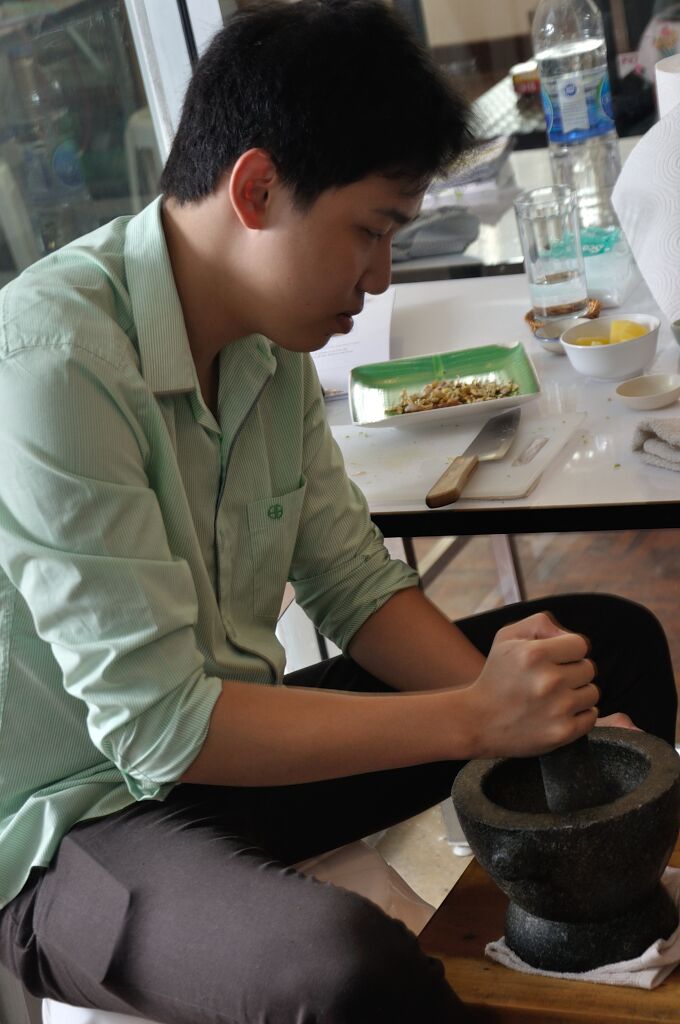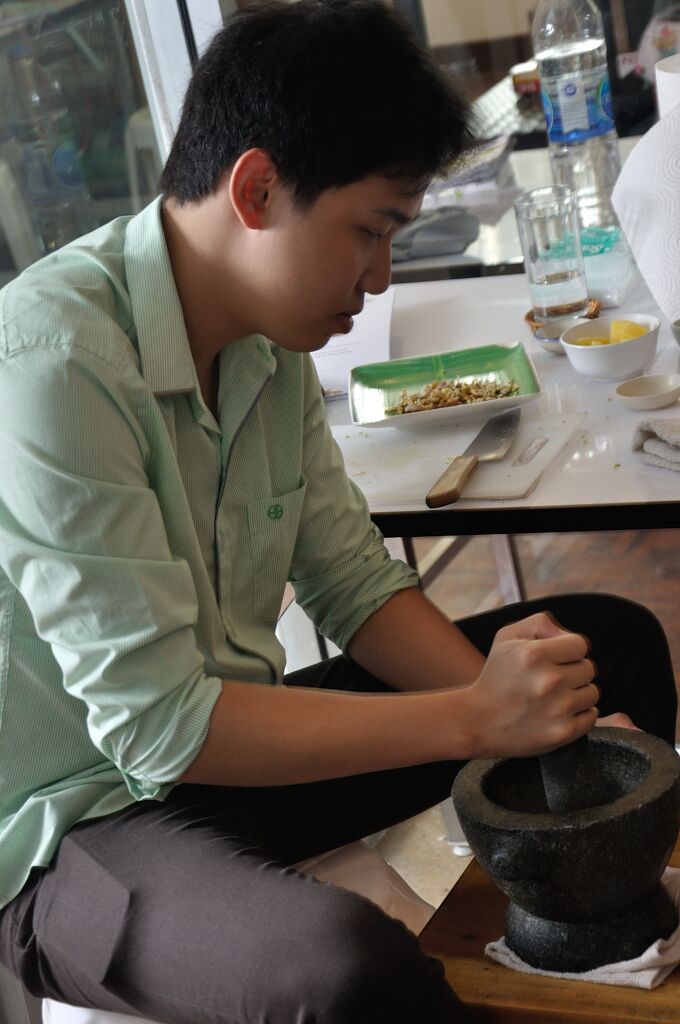 Class Size:   Limited to 9
Graduation: Diploma and Ministry of Education certificate awarded upon satisfactory attendance, participation, and test scores
Deposit:      25% required to hold a seat
Letters of Acceptance:    Provided for international students upon receipt of deposit
Visas:  Assistance provided in obtaining tourist visas (free) or student visas ($300 USD), as required


To contact us, please send email to Ron@ThaiChefSchool.com, call +66 2136-9405 (School office), or click HERE
METHOD OF DEPOSIT PAYMENT:
Paid by Paypal, any major credit card, bank wire transfer, cash, or by ATM transfer (if within Thailand).  Remaining tuition, not paid as a deposit, is due the first day of the class paid in cash (THB) or by credit card (+3%).
ENGLISH LESSONS:
Available, at an extra charge, for those needing or wanting to improve their English skills.
INTERNSHIPS:
Work at selected high-quality Thai hotels/resorts for pay and experience.  For those who do a good job, employment opportunities are usually available.  Up to 3 months of on-the-job training.
INTERVIEWS:
We are in constant contact with employers seeking entry-level pan-Asian cooks.  Some represent cruise ships while others work with resorts and restaurants in Thailand.  We assist our students in obtaining interviews.  There is no charge for this service.