[trx_sc_content type="default" size="none" float="none" align="none" padding="none" title_style="default" title_align="center" title="Team Building Cooking Class Activities" subtitle="" description="" link="" link_text="" link_image="" scheme="inherit" id="" class="" css=""]
Culinary team building in Bangkok with Thai Chef School is FUN and DELICIOUS!  Our cooking school creates fun and unforgettable team building cooking activities that will encourage new skills and abilities thereby making your team more efficient and productive.
Every team building cooking class is designed to be an amazing and highly interactive experience that you will never forget!
Every activity will inspire, engage, and educate your team to become the best they can be.
From 10-75 pax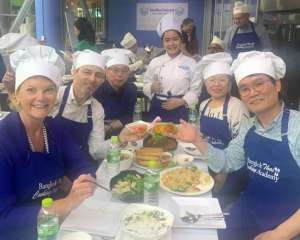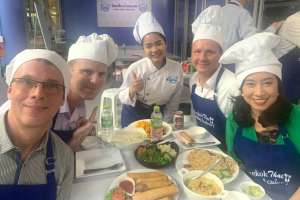 WHY TEAM BUILD WITH US?
Availability–

Fun team building cooking activities available in the evenings and weekends

Dishes–

Thai and Western dishes available for learning

Activities– 

Fun cooking foreign dishes & competition among teams make for lots and lots of laughs

Professional Chefs– 

Our chefs know multiple cuisines, and they know how to entertain too!
MASTER CHEF COMPETITION (4 hours)
Teams compete by working together to cook selected dishes, Thai or foreign dishes, that are taught by our instructors.  Judges then decide which team was able to work together, follow instructions, and produce the best-tasting dishes.  We strive to make the event competitive and fun for all those who participate.  Here are some reasons for having your next culinary team building activities in Bangkok with us:
Convenience– 

Conveniently located 2 blocks from BTS On Nut station, directly on Sukhumvit Road, transportation by van and bus as well as the availability of parking

Affordable– 

For one reasonable price/person, we provide ingredients, supplies, education and fun in a safe, professional, and fully air-conditioned environment.

Selectivity/Variety– 

You pick the dishes from a list of Thai and foreign cuisines

Availability– 

We can host your event at our school in the evenings and weekends.

Memorable– 

Preparing meals together is fun; eating together is even more fun.  Memories last forever.

Flexible– 

Since we are indoors, no heat and no rain, cool and dry 24/7

Team Work– 

Working together preparing ingredients for cooking, actually cooking meals together, and sharing a great meal mutually prepared promotes bonding

Non-Athletic– 

Something for men and women to do together without injury or too much heat

Activities Available–

Team building cooking class of Thai and foreign cuisines and fruit carving
Let us host your next culinary team building cooking class. We can accommodate groups ranging from 10-75 people.  A deposit is required for all group and private events booked.  We accept cash (Thai baht or USD), PayPal, all major credit cards, bank transfers, and ATM transfers (if within Thailand).  Unpaid balance can be paid by cash (THB or USD) or credit card (+3%) at the end of your event.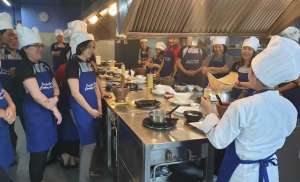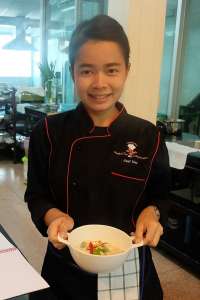 Contact us for further details:
+66 819-154-919 (Khun Tanawan–English and Thai)
+66 807-706-741 (Khun Ron–English)
Click HERE to contact us or send an email to Ron@ThaiChefSchool.com.
[/trx_sc_content]