CULINARY TRAINING FOR EXPATS
PART TIME WITH THAI EDUCATION VISA
Overseas students often ask us how to stay in Thailand long term legally. Visas can be a bit of a nightmare to understand, we will provide you with a general outline of the steps you will need to take to get here.
To study here in Thailand, you will need to apply for a Thai education visa (student visa). The requirements can be found on the immigration website for Thailand but basically, they are:
• 6-month-old passport
• 2 passport photos that have been taken in the last 6 months, these should be approx. (4×6)
• A completed visa TM87 application form
Along with this information, we will assist you in establishing proof that you are indeed going to be studying with us. This can be an acceptance letter, course description, school registration documents and evidence that you are enrolled. If you are already studying, then you will need to provide a copy of your student id and a transcript.
Other requirements may be that you will need to show proof that you have at least $500 in your bank account.
6 MONTHS DURATION
This is a dream come true for many of our students. Enjoy living in Bangkok and learning the fine culinary art skills of this amazing country. This is a part-time course which allows you to not only learn but explore this amazing city. This part-time course is geared so that you will be a chef in only 6 months. These skills are something that you can take with you for a lifetime. You can use them to open up your own restaurant or simply feed your family.
To see our

E Brochure

, click

HERE

.
Two Culinary programs are offered:
Pan-Asian Culinary Training Program –
• Learn Thai, Chinese, Japanese, Korean, and Vietnamese cuisines
• Learn Basic Culinary Skills–knife skills, HACCP, food costing, food measurements and more! This includes learning the various kitchen equipment as well.
• Learn to work with Asian ingredients, what they are and what flavors and textures they provide.
• Working with recipes and mastering the art of displaying the food as you serve it.
• Plate the food up like the pros!
Pastry/Bakery Professional Training Program –
• Work with chocolate and buttercream to get this amazing combination of pastry/bakery dishes. We will dive into the pies, desserts, classic Western cakes
• Learn dough from breads to pizza crusts
• Learn the proper techniques for preparing pastries from our French chef.
• Get a full understanding of the techniques and preparation for pastry & bakery.
• Learn 101 professional recipes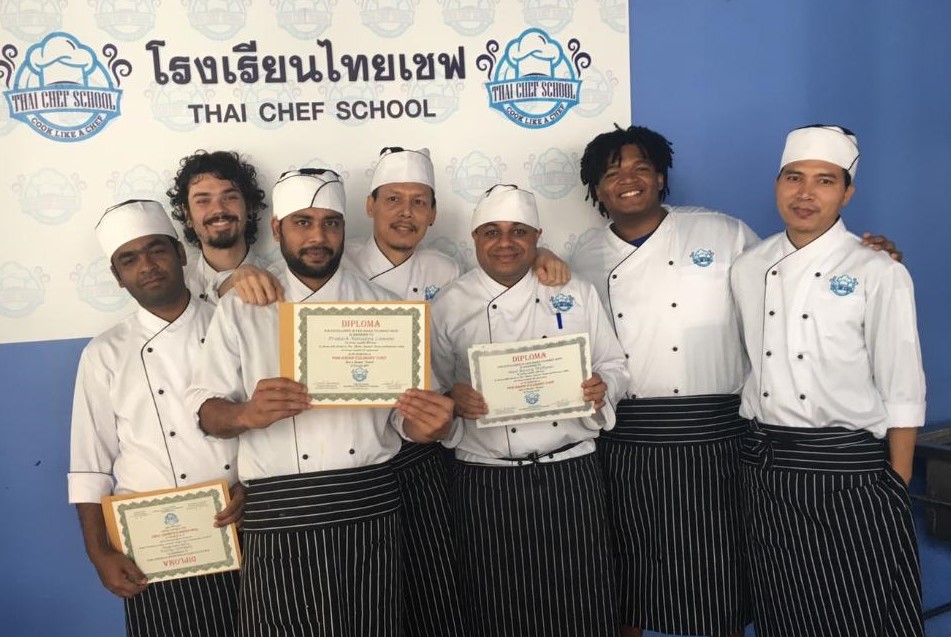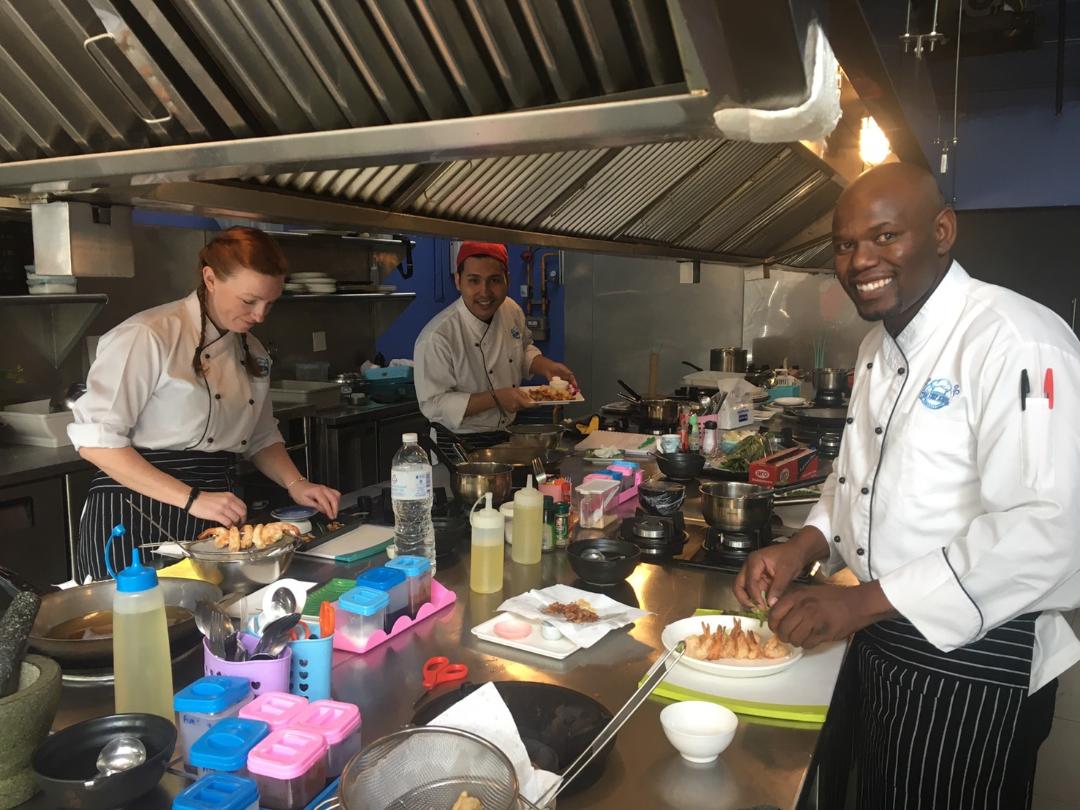 HOW IT WORKS:
First, you need to apply to the school to ensure that you get enrollment. From there, you will need to apply for an Thai education visa. This is a 6-month course, so you will be here for the full six months learning from our top chefs. Once you are accepted you will need to follow the steps above to get the proper visa. When you have everything gathered you will need to apply at the Thai Embassy in your homeland.
TRAINING PROGRAM OPTIONS & COSTS:
Non-Diploma— Study, attend class, learn with other culinary students on a part-time basis.  Earn no accredited diploma.  30,000 THB for 6 months visa including training.
Diploma— Study, attend class, learn and test with other culinary students on a part-time basis AND receive an accredited diploma.  60,000 THB for 6 months visa, training and diploma.
BENEFITS OF TRAINING:
• Learn useful skills for home, which you can show to your family and friends!
• Learn to cook like a chef!
• Start a new career or business with the skills you learn here!
HOW TO REGISTER:
1. Select the course and date you wish to start. Remember to leave enough time to get the proper visa in order.
2. Contact us to confirm availability.
3. Once we confirm your start date, a deposit is required to start the paperwork. We will send you the forms needed so that you can get your 6-month Educational Visa.
STUDENT VISA PROCEDURE:
1. All Thai Ministry of Education required documents that can be downloaded and completed are HERE.
2. Additional documents needed:
3. 6 color photographs (3×4 cm)
4. Copy of home page and every used page of your passport
5. Criminal clearance certificate for some nationalities (check with the school)
6. Return completed documents to us for submission to the Ministry of Education.
7. Once we receive from MOE (usually about 3 weeks) approved documents, we will provide you to take to the nearest Thai embassy in another country for your Education Visa. (Some nationalities must go back to their home country).
8. Once you receive your Education Visa and come to Thailand, you must bring your passport to the school within 1 week.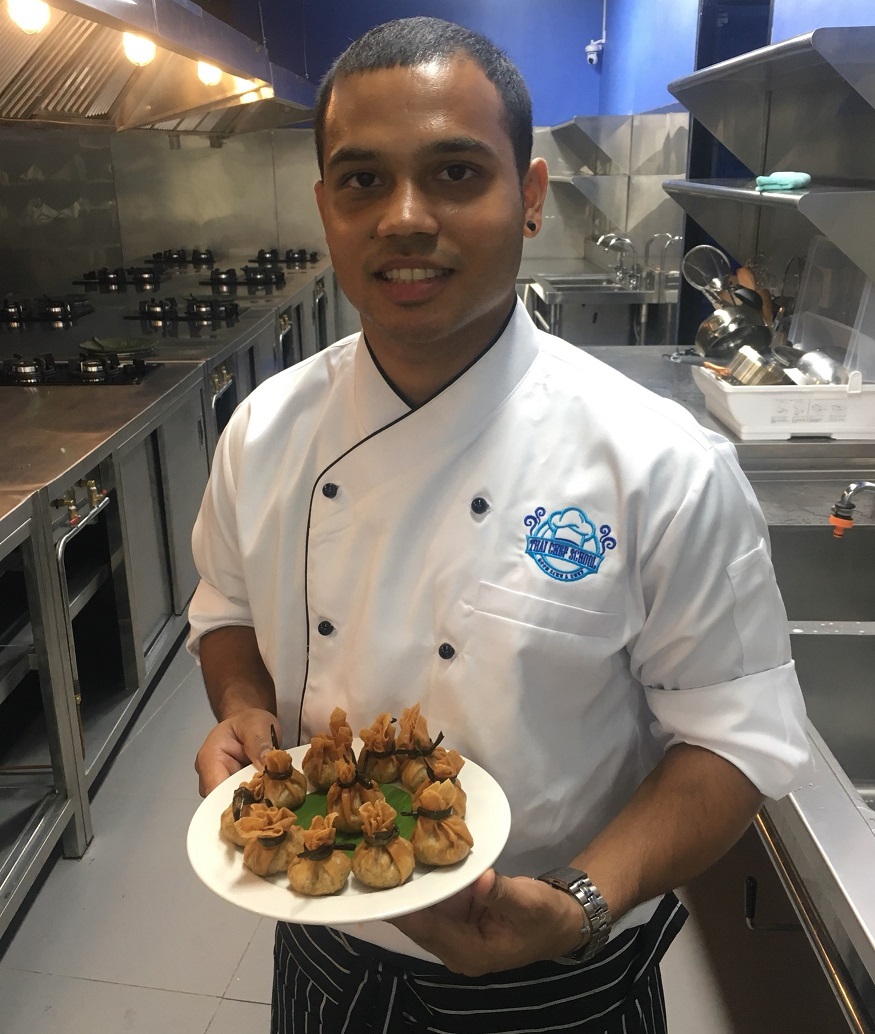 PAYMENT FOR CLASS:
• Deposit once we confirm your desired start date– 9,000 THB (non-refundable)
• Remaining Balance – Due when we provide approved MOE documents
Note:  Payments due in cash, credit card (+3%), or bank transfer
Additional Information:
Items provided–Ingredients, chef's whites & apron, knives, training manual, recipes
Instruction & Recipes will be in English. We find that most people can speak English from all parts of the world and feel this is the best language for an international school.
LOCATION:
We are located 2 blocks from BTS On Nut, corner of Sukhumvit Road and Soi 54, lower level of the Phyll Community Mall. Click HERE for a map. Should you have trouble finding us, give us a call and we would be happy to guide you.
FOR MORE INFORMATION:
By email — Send an email to Ron@ThaiChefSchool.com or click HERE.
By phone — call Khun Tanawan +66 819-154-919
What do you have to lose? This is an experience of a lifetime and it only takes 6 short months. You will get to enjoy the Thai culture in-depth with our instructors and live right here in the city. Thailand is a beautiful country that is rich in unique food experiences.