[trx_sc_content type="default" size="none" float="none" align="none" padding="none" title_style="default" title_align="center" title="HALF DAY THAI COOKING CLASSES" subtitle="Half-Day Training" description="" link="" link_text="" link_image="" scheme="inherit" id="" class="" css=""]
Our professional culinary training school teaches Thai cooking–emphasizing authentic flavors, aromas, and presentation. And training is done in a fun, friendly, and professional manner by our trained Thai chefs. Pick up is next to BTS On Nut mass transit station. You will then visit a large fresh market where you will learn all about Thai ingredients. Then a very short walk to the school where you can choose to learn your favorite Thai dishes. Just choose one dish from each category below. Start out learning how to make a curry paste from scratch–using the traditional mortar & pestle and then learn 4 more Thai dishes of your choosing. Finally, a complimentary Thai dessert is served to you. Training is done in air-conditioning while at our professional cooking stations. Thai Chef School is a licensed private school by Thai Ministry of Education.
Cost: 1,200 THB
Market tour at large Thai fresh market
Time & Days: 8:45 AM & 1:15 PM, Monday-Saturday
Choose the Dishes to prepare: 5, including making a curry paste
21 dishes available to learn
Pickup next to BTS On Nut (10 minutes from BTS Asoke), in front of Century Movie Plaza at street level.
Receive a complimentary Thai dessert
Receive written recipes in English for dishes learned
Certificate of Achievement awarded upon request
Payment: At the end of class either in cash (THB) or by credit card (+3%)
[/trx_sc_content]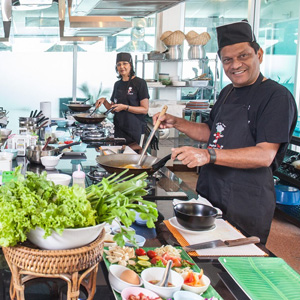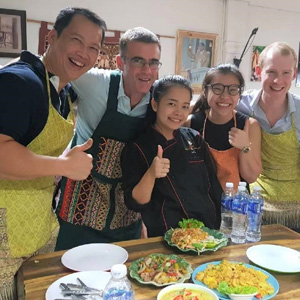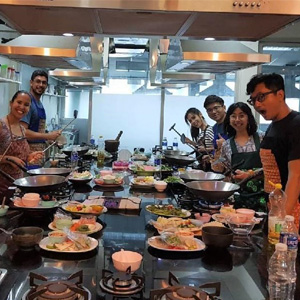 BASIC THAI COOKING CLASS SCHEDULE
PREPARE CURRY PASTE + CHICKEN IN CURRY DISH (CHOOSE ONE):
Green curry
Red curry
Yellow curry
Panang
Massaman
Khao Soy
SOUP & SALAD (CHOOSE ONE):
Tom Yum Goong
Tom Kha Gai
Som Tam
Laab Gai (Spicy Chicken Salad)
APPETIZER, RICE & NOODLES (CHOOSE ONE):
Pad Thai
Pineapple Fried Rice
Pad See Ew
Chicken Satay
STIR FRY (CHOOSE ONE):
Chicken with Cashews
Black Pepper Beef
Minced Chicken with Spicy Basil
Stir Fried Morning Glories
COMPLIMENTARY DESSERT (SURPRISE):
Mango with Sticky Rice
Deep Fried Bananas
Bananas in Coconut Milk
VEGAN & VEGETARIAN COOKING:
Want to learn vegetarian or vegan Thai cooking? Not a problem. Thai recipes can be adjusted as needed. Other ingredients such as tofu, soy proteins, mushroom sauce, soy sauce,… can be used. Please let us know of your needs when booking, and we will be glad to accommodate your needs.