Chef in Thailand
CHEF LANNARAT (KING) JANTARANIYOM
SCHOOL DIRECTOR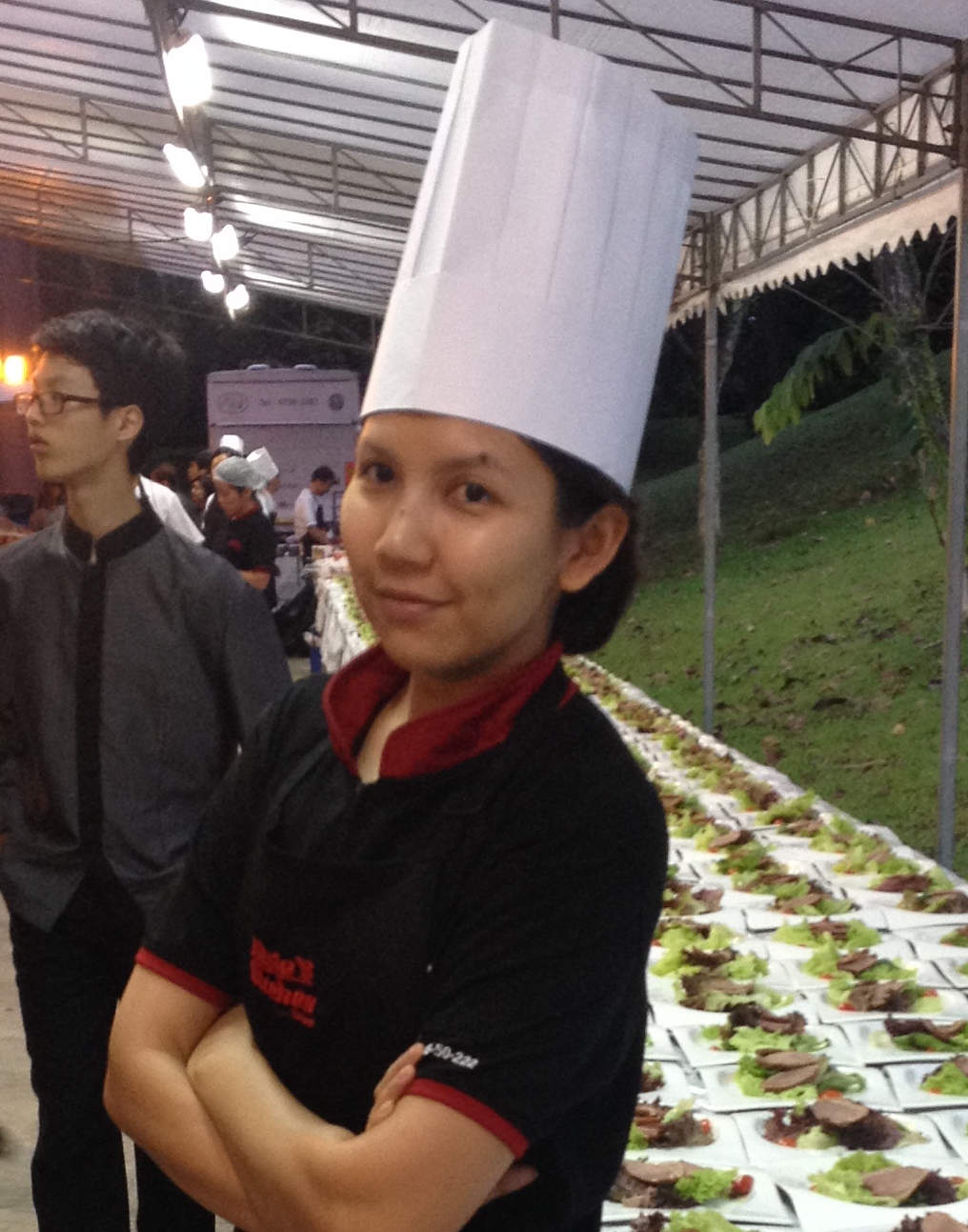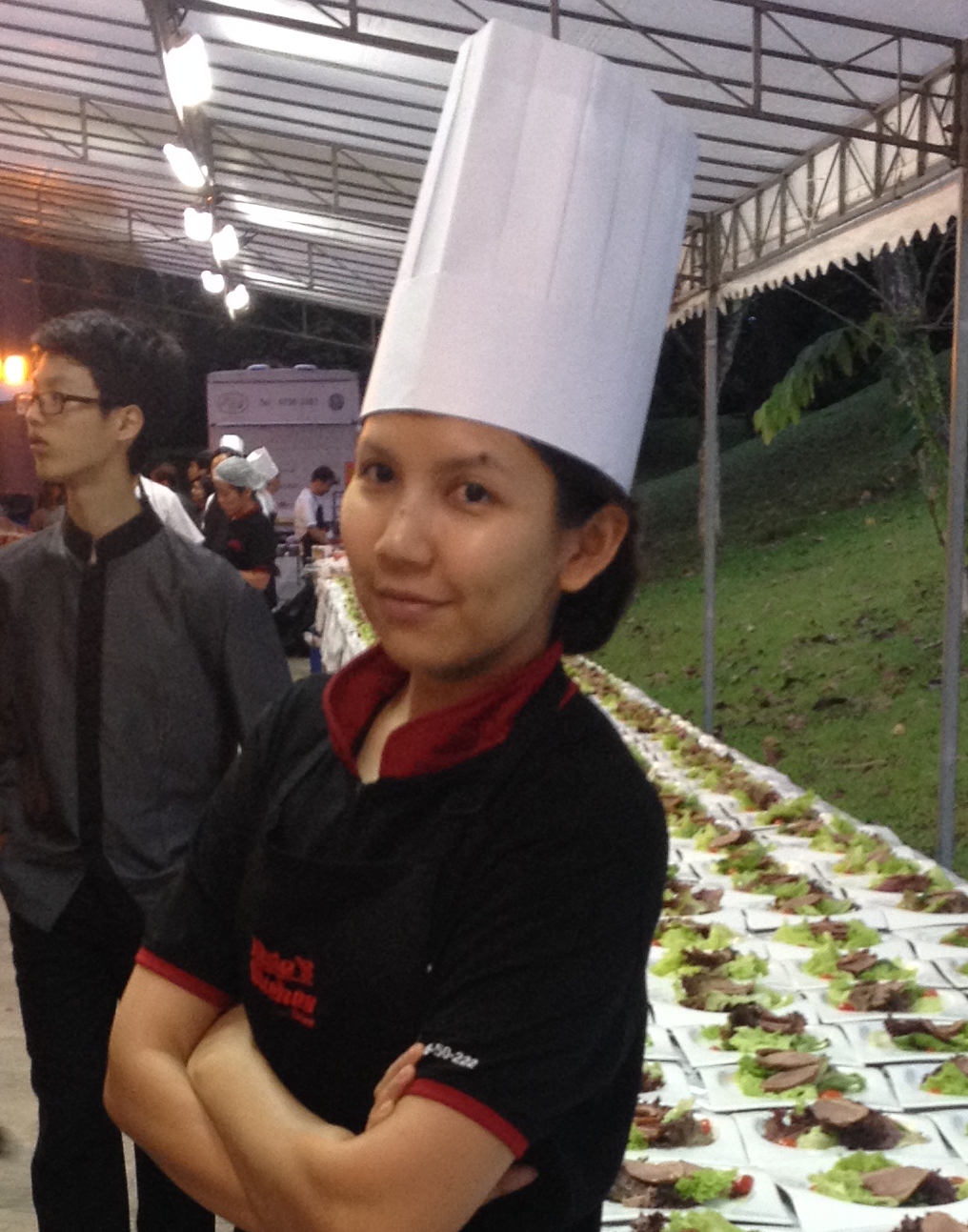 Chef King is the person with immense passion and love for cooking. She is quite a proficient chef and understands the value of nutrition in the food. She has a belief that right food nourishes both the body and mind and keep them in harmony. Her Thai cooking and fruit carving skills are second to none. Her students have high regard for her cooking knowledge and heartwarming nature. Learn the art of Thai cooking from the best in the industry while savoring the astounding sights from our hillside classroom.

PROFESSIONAL TRAINING:
1.  Graduation in B.A. (Chinese Studies) from Prince of Songkla University, Phuket,
2.  Intensive one-year Traditional Thai Cuisine program from Mandarin Oriental Hotel Apprenticeship Program (OHAP),
CULINARY & TEACHING EXPERIENCE:
1.  1 year as Sous chef at Elsie's Kitchen, Singapore
2.  3 years as Head Chef at Thaksin Vocation Club, Thailand
3.  Head Instructor for Thai cooking and fruit carving, August 2015-2018 at Phuket Thai Cooking Academy.
4.  Thai Chef School–Director, 2018-present

CHEF JEAN-BAPTISTE (JB) LUCAS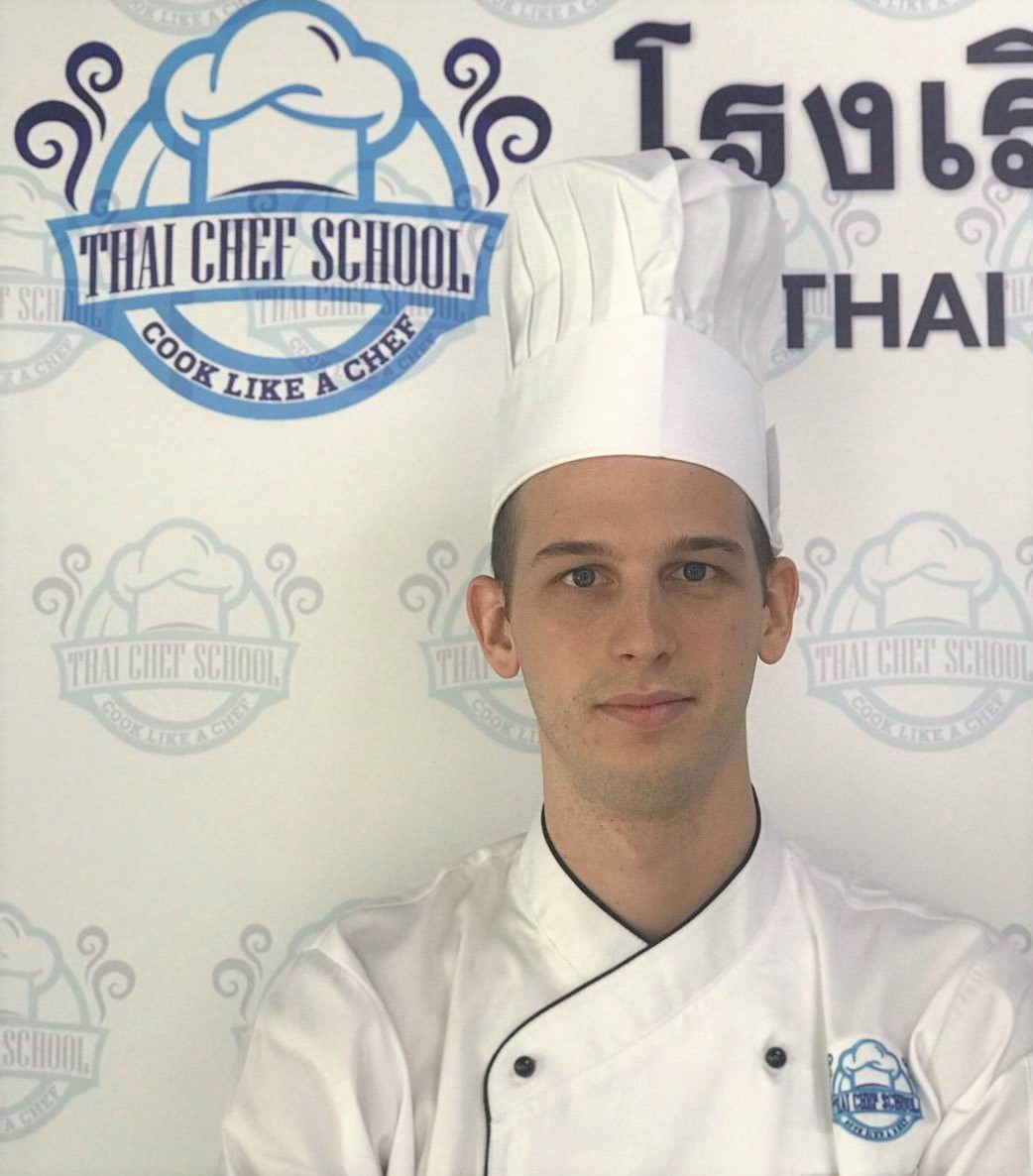 Chef Jean-Baptiste (JB) was born in Brittany, France.  At a very young age, JB acquired his love for cooking by working with his mom in their kitchen.  His high school diploma and emphasis was in Hotel & Catering.  After completing high school, Chef Lucas completed a 2 year technical degree in Culinary Arts & Gastronomy from Lycee le Paraclet.  During his studies he trained in Auberge les Morainieres (a 2 star Michelin restaurant) and was hired as a pastry chef.  After completing one year, he then joined Les 2 Moulins French restaurant first as a sous chef and then as chef for 2 years.  Join him in Bangkok and learn authentic Western culinary arts.
PROFESSIONAL TRAINING:
1.  High school specialization in Hotel & Catering with honors
2.  Technical 2 year degree from Lycee le Paraclet in Culinary Arts & Gastronomy

CULINARY EXPERIENCE:
1.  Auberge les Morainieres (2 Michelin stars) French restaurant as cook & pastry chef, 1 year
2. Les 2 Moulins French restaurant, 2 years as sous chef and then chef

CHEF LAOONGDAO (DAO) CHANAWONG
Chef Dao is a master cook in her own right. She is also famous as a smiling Thai cooking instructor. Chef Dao is certainly our best fruit carving instructor and specializes in teaching our private classes. If you really want to learn cooking some lip-smacking Thai dishes then we welcome you to take the demo class of chef Dao. She will constantly throw you new challenges to make you more proficient in cooking. Whether its Thai cuisines, vegetable carving, you will enjoy every moment in her class.
EDUCATION & TEACHING EXPERIENCE:
Degree in Accounting from Sisaket Business Administration College.

Le Cordon Bleu Basic Cuisine Diploma, Bangkok, 2018

Professional Thai Cooking Programme from Dusit Thani Culinary College.

Dusit Thani Government Occupational Testing Certification, passed 2 day testing in cooking theory, practical skills, and fruit carving.

Thai cooking and fruit carving instructor from 2014-2016 at Hua Hin Thai Cooking Academy.

Thai cooking and fruit carving instructor, from 2016- 2018 at Bangkok Thai Cooking Academy.

Thai Chef School–Classroom instructor & chef training, 2018-present
CHEF SARAYUTH (KAI) SARIDDIPONG
Chef Kai graduated from Rangsit University in Faculty of Fine Art (Photography).  He had a great chance to move to London in 2001 and found that he loved cooking.  He followed his dream by studying in Professional Chef Diploma in London and other relevant courses that made him into a great chef.  Chef Kai trained under various local chefs in London.  Amongst more than 10 years of  experienced other talents, Chef Kai also possesses an advanced knowledge of sanitation and food safety, food preparation, food presentation, resource management, menu management, the use of wine, liquor and spirits in cooking, and excellent communication skills. Chef Kai is also trained and certified in Health and Safety and ready to share with students who has the same dream as him.
PROFESSIONAL TRAINING AND ACHIEVEMENT
Bachelor Degree in Faculty of Fine Art (Photography) from Rangsit University BKK

Professional Chef Diploma NVQ Level 2, Westminster Kingsway London UK

Foundation Certificate in Food Hygiene, City & Guild London UK

Safe Handling & Use of Chemical Cleaning Products, Zenith London UK
Culinary Chef Experience:
2014-2016       Owner/Management Hot sauce, Self Catering BKK
2012-2014       Operation Manager/Owner/Chef at Sabuy-Arome BKK
2011-2012       Chef in wok section, OBAO BBQ Restaurant, NYC USA
2009-2011       Head Chef at Wine Connection Nawamin, Bkk
2006-2008     Grill Chef, Black & Blue (Steak House) London, UK
2004-2006     Second Chef, Mango Tree Restaurant, London UK
2002-2004     Chef/Food and Beverage Manager, The Mint, Thai Lemon, London UK
2001-2002      Chef, Page Pub, Thai Restaurant, London, UK
Teaching Experience:
4 years as a private chef in UK

2018 – present– works as an Instructor at Thai Chef School
CHEF KAN NANTANAVANICH
We are pleased to have Chef Kan as a chef-instructor at Thai Chef School.  He brings extensive knowledge and know-how in Thai and Western cuisines.  To know chef Kan is to like him.  Always with a smile and able to cook many cuisines, he cooks with authority and teaches with knowledge and excitement.
PROFESSIONAL TRAINING AND ACHIEVEMENT
 Diploma in Hotel Management at the International Hotel & Tourism Industry Management School (I-TIM), Bangkok

Certificate of Excellence–outstanding student at I-TIM, Bangkok
CULINARY CHEF & TEACHING EXPERIENCE
7 years as head chef and sous chef in restaurants in USA, Korea, and Thailand cooking Thai and Western cuisines.

Internship at numerous restaurants in Bangkok during college

2018-present–Thai Chef School as chef instructor
CHEF THITIKORN (BOSS) LAOSRIWIJIT
We are proud to have young chef Boss as our instructor at Thai Chef School.  He is following his dream to become a great chef and help others to become professional chefs.
His love of cooking began in high school in the south of Thailand.  His cooking philosophy is to produce fresh, healthy, sustainable, tasty dishes across all cooking styles and to keep every dish in high standard while instilling his passion for cooking from generation to generation.
PROFESSIONAL TRAINING AND ACHIEVEMENT
B.A. Culinary Arts and Restaurant Management Dusit Thani Culinary College Bangkok (International Program joint with Le Cordon Bleu)

Awarded in DTC Cooking Competition in 2013 in 4th in the Black-box Challenges
Culinary Chef Experience:
2013   Trainee at the Royal Phuket Yacht Club in Kitchen Department, Main, Bakery (Thai & Western) and Cold Section
2014    Trainee at Phulay Bay, a Ritz Carlton Reserves in Kitchen Department ,Plaifah (Pool side, Thai & Western), SriTrang (Thai) and LumPoon (Western)
2015     Trainee at Bangkok Marriott Hotel Sukhumvit in F&B Department
2015 – 2017   Commis I at Kitchen Department, Hot Kitchen (Sauce, Side-dish, Meat, Fishand Pasta and in charge of Food Cost Controlling
Teaching Experience:
2018 – present– Chef Instructor at Thai Chef School