We are pleased to have Kru (teacher) Nat as our head chef and Professional Chef Program Director in Bangkok!
Chef Chayanat (Nat) Boonmeerod grew up in a small village on the banks of the Tha-Jeen river, just a short ways northwest of Bangkok.  He acquired his love of cooking by helping his aunt Cha-Loy in the family kitchen.  When he was young, she would send him out daily to fetch young tamarind leaves, coconuts, shrimp, fresh fruits, herbs & vegetables.  Together, they would prepare various curry pastes, soups, and other traditional Thai meals.  They did this together for many years.
After graduating from Srinakharinwirot University with a degree in Business Education, he realized his real love was Thai cooking.  He thereupon enrolled in the intensive one year Traditional Thai Cuisine program of the Mandarin Oriental Hotel Apprenticeship Program (OHAP).  Upon graduation, he was recognized as their outstanding student.
Chef Nat has over 14 years of experience in both teaching traditional Thai culinary arts, fruit & vegetable carving, and as the head chef of several Thai restaurants in overseas countries.  His experience speaks for itself.
PROFESSIONAL TRAINING:
1.  Srinakharinwirot University, B.A. in Business Education
2.  Mandarin Oriental Hotel Apprenticeship Program (OHAP), intensive one year Traditional Thai Cuisine program
Culinary Chef  Experience:
Beijing, China—Head Chef, Phrik Thai Restaurant (Holiday Inn Lido), staff of 20, cooked for Royal Thai family members on visits to Beijing, 2 ½ years
Kuala Lumpur, Malaysia—Head Chef, Siam 62 Thai Restaurant, 2 ½ years
Singapore–Head Chef, My Thai Restaurant, 6 months
Teaching Experience:
 Wandee Culinary School—Thai cooking and carving instructor, 4 years.  Primarily taught foreigners who wanted to open Thai restaurants overseas and taught Thai nationals cooking skills in order to obtain overseas cooking positions.
Sumita Culture Center—Thai cooking and fruit, vegetable & soap carving instructor, part time, almost 10 years
Hand Craft Training Center—Vocational instructor, fruit and vegetable carving, 4 months
Bangkok Thai Cooking Academy—Teacher of professional chef program and master fruit & vegetable carving instructor, April, 2011-April, 2013 & August, 2014 – present
CHEF KALLAYA (YA) SORNLERM
Kallaya, better known as Ya, is our smiling Thai cooking instructor.  Behind this smile, however, is a Thai lady who can really cook.  Quite often her students make the same comment:  What they cook in her class is usually the best Thai food they've ever eaten!  We invite you to take a class or two with Ya and enjoy some great Thai dishes.  And, if you want to learn something fun and challenging, let her teach you another one of her specialties:  Thai fruit & vegetable carving.  One thing for sure—whatever you learn from her, you will enjoy her class—GUARANTEED!!
TEACHING EXPERIENCE:
1.  Easy ABC Cooking School—Thai cooking and fruit carving instructor, 2 years
2.  Wandee Cooking School—Thai cooking and fruit carving instructor, 1 year
3.  Bangkok Thai Cooking Academy—Thai cooking and fruit carving instructor, 2012-2014
4.  Hua Hin Thai Cooking Academy–Head chef and fruit carving instructor, 2014-present
EDUCATION:
Ramkhamhaeng University, B.A. degree in Mass Communications and Public Relations
CHEF LANNARAT (KING) JANTARANIYOM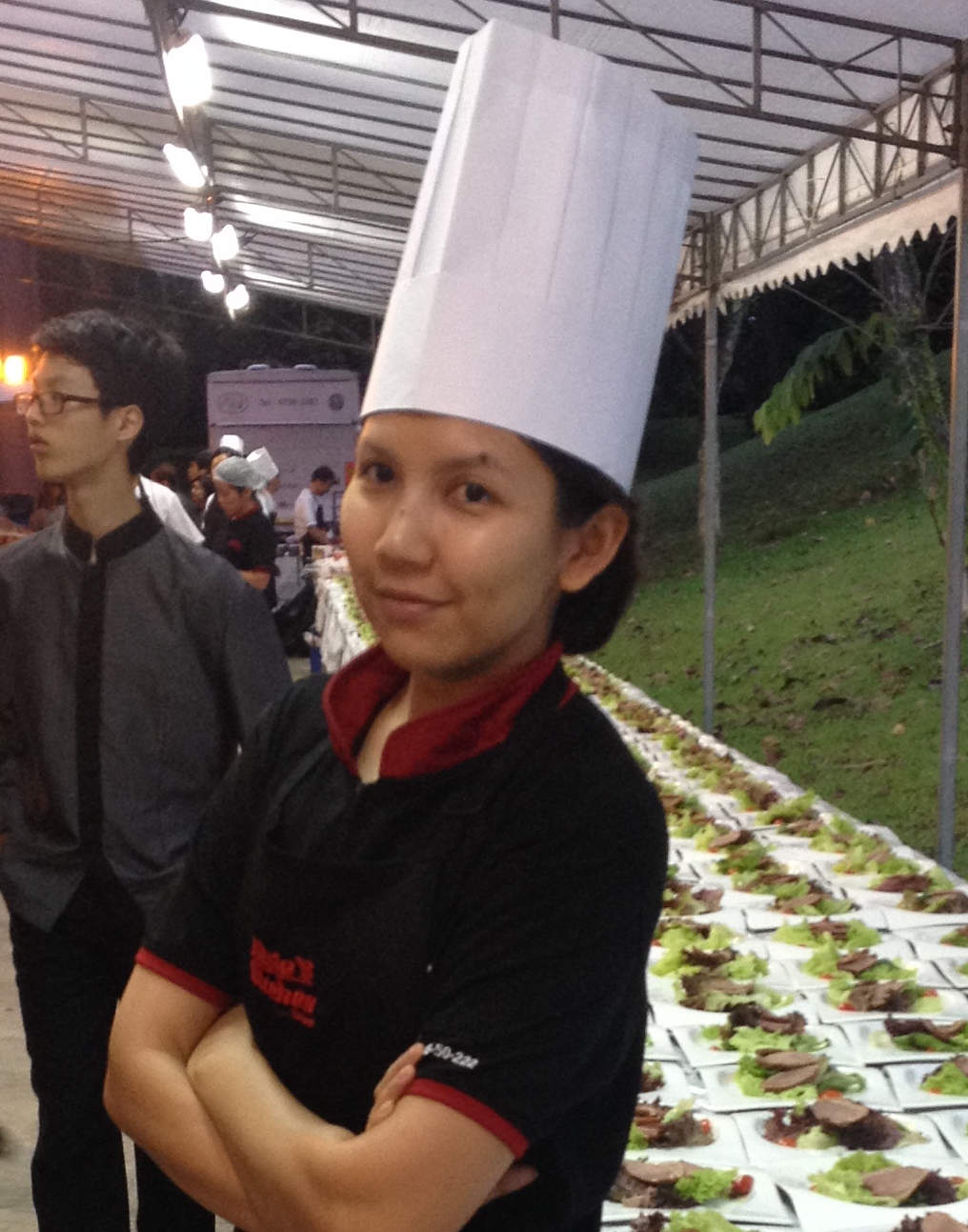 Chef King has a true passion for cooking, and it shows in her teaching style and food taste.  She is a truly gifted chef with years of experience teaching in English and Chinese.  Her belief is that food can both nourish the body and please the palate, all while having fun.  Her understanding of nutrition, Thai cooking and fruit carving are second to none.  Her students rave about her knowledge and friendly nature, and we are sure you will also.  Come to the beautiful island of Phuket and experience the amazing sights from our hillside classroom while learning from the best.
PROFESSIONAL TRAINING:
1.  Prince of Songkla University, Phuket, B.A. in Chinese Studies
2.  Mandarin Oriental Hotel Apprenticeship Program (OHAP), intensive one year Traditional Thai Cuisine program
CULINARY & TEACHING EXPERIENCE:
1.  Singapore–Sous chef at Elsie's Kitchen, 1 year
2.  Thailand–Head Chef at Thaksin Vocation Club, 3 years
3.  Phuket Thai Cooking Academy–Head Instructor for Thai cooking and fruit carving, August 2015-present